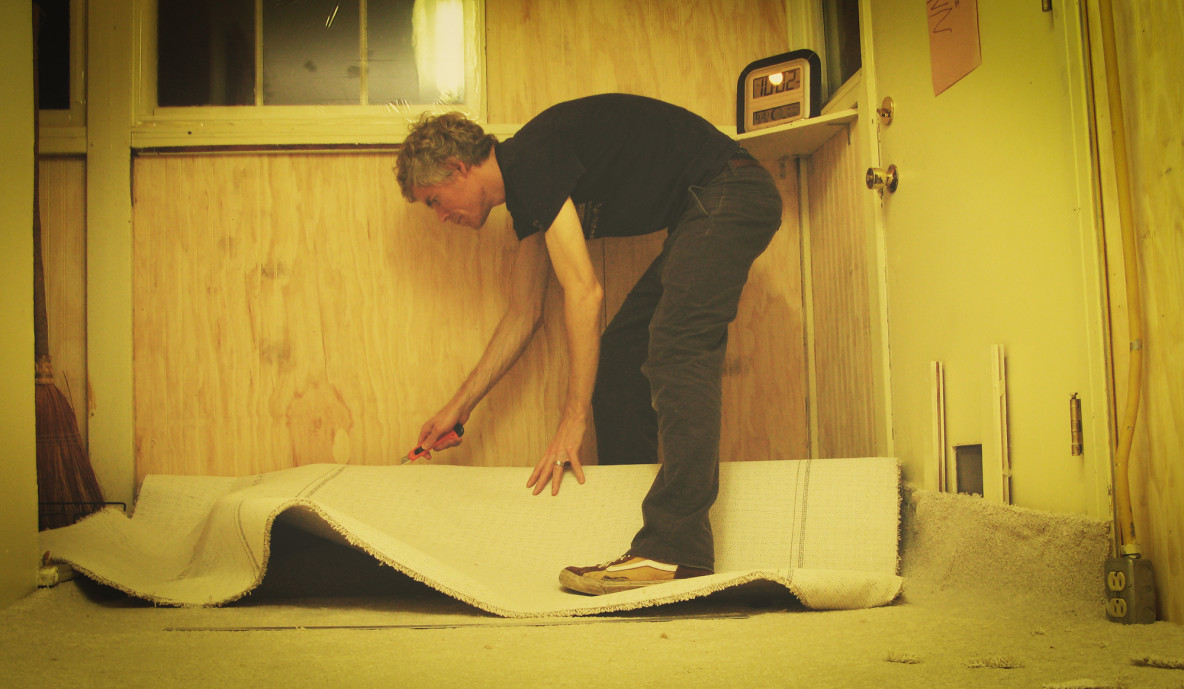 It is not just a virtual business identity being launched this February. I've also gotten permission from my landlord to renovate my home office. My office was originally a sun room or an enclosed porch with no insulation. Seattle is not very cold in the winter time, but still, for me to work in my office required blasting an industrial heater, and wearing a couple of extra layers of clothes. For 4 years I have operated this way. The room was so uncomfortable my solution was to only work in my office half the time and the rest of the time work in coffee shops (I like the description of this work tactic—coffee shop squatting).
Thanks to Jon Stenzler, at Lasting Nest, Inc, he insulated the floor and walls of my office (which required removing the beadboard walls, and replacing it with new beadboard). Then I followed his work with installing carpet. It was so rewarding to do part of the physical work. Being a web designer and developer has been terrible for my staying in touch with physical reality. My whole work day is in front of a computer. Being a part of this renovation is rewarding and a great way keep myself present in the physical world. Next step is painting and decorating.
Business Identity in Realationship to the Physical Space
By Spring of 2015, I completed my office and wanted to add my thoughts about one's physical space and it's importance. Having this renovated office space may not directly be my business identity, but it does have an effect on it, and reflects the philosophy behind my own business identity. My office is small but has many windows to look out and receive light. As I work in November and our Seattle light is limited, I can not recommend more a space the is open, light and comfortable for good working conditions. When I enter other people's cramped spaces, even my thoughts feel restricted by the physical space. Also, a cluttered space clutters the mind (I'd like to improve even more on this topic).
Getting back in to creating in a physical space (off the computer), is an strong emerging desire of mine. I'm not sure where that desire will go. I've always enjoyed how stores like Anthropology decorate their stores with fine art installations. One can only do so much, so if there is anyone in Seattle who is interested in teaming up with Schildbach Design to create both a virtual and physical business identity for a business, I'm open to this collaboration.